Aside from the completely obvious difference of Adam being the first boy, watching him grow has almost been a renaissance of parenthood for me.
Not sure why exactly…maybe the sense that these opportunities to relish and love on our little ones really are numbered…
and the reality of…the fleeting moments of our little babes lives…
…it is no secret that I absolutely adore my children.  I think watching ella reach milestones was a little heartbreaking for me.  She was the first…and I often felt a sadness in watching her grow so fast…I just loved being a mother and it seemed unfair that all the beautiful moments of a baby pass so quickly.  But I loved becoming a mom…It was complete.  For the first time in my life, I was secure in my own skin.  I knew that what I was doing was exactly what was right for me.  I loved it.   It was all I wanted to do all day…just sit and watch her…hold her…and enjoy her being a babe.
14 months later…Ava came…yup, kinda quickly…and I learned with her that your heart has a miraculous ability to stretch to the infinity.  That with each new person you are so lucky to have in your life…your heart just gets bigger. I learn this best from my Mom's dad, Grandpa Joe.  He is so wise and loves all those in his family.  So thankful to glean from him (and grandma), that it is not about sharing your heart with your children, because the love does not have to be rationed and spread out, but rather it just miraculously multiplies.
and there is always a surplus around here
.
By the time Mia came, we were all pros at it all.  I swore after having Ella, I thought if I had more than one baby I would never grocery shop again…heaven forbid ever stepping foot in Target with all in tow.  Well…just as our hearts grow…so does our ability to multitask and achieve the impossible…like shopping at target, while holding a baby, picking up popcorn as it sprinkles out of your cart, managing mini-tantrums down every candy or toy aisle, and putting back all the items that magically appear in your cart when you are not looking…well, you get the picture.  We just survive as moms…and get pretty good at it!  Heck, I even enjoy the weekly target run!  It all seems to mold into the daily routine and you just take it as part of being a parent.
I feel like I have gotten pretty good at the routine, but there is something about having this wise little soul in our home that takes me back to the feelings I had when I watched the first babe.  It is so exciting and fresh in so many ways…
and I love watching all his new tricks…
like this one… (oh baby boy…you are one dangerous little soul
)
this last week, Adam and I stayed home to hang out and relax while Daddy and the girls headed to a local water park.   We went out for a jog, put away laundry, cleaned up the house, and shared some enchiladas…
and while I was cleaning up…
Adam was up to his latest trick…
(this kid loves to push the chairs out, climb up on them, and then do a little dance on the table.  He totally giggles…he thinks he is so smart)!
he usually gives up after about the 15th time I get him back down again and again…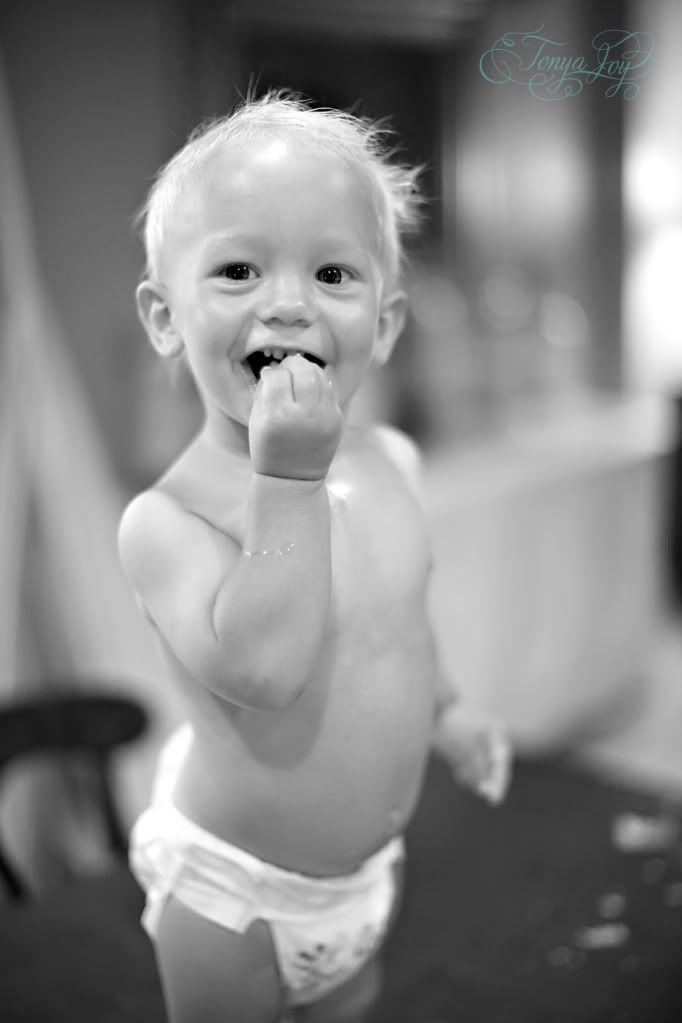 Adam, you are just such a happy little soul.  Having you in our lives and home is such a gift! We love you!
now keep your feet on the ground crazy boy!
xoxo
momma…